Blakeslee Animal Bedding
Welcome to a better way to keep your animals cleaner, drier and safer. Our new, improved bedding material is designed to meet the needs of today's equine, family livestock and small animal breeders and enthusiasts.
It is manufactured of 100% whitewood with approximately 4% moisture content. This makes our product more absorbent than traditional wood shavings, crumbled newspaper or corn cob materials. Compared to regular wood shavings, our product will absorb more moisture, greatly suppresses ammonia, and provides a cleaner, safer and more pleasant living environment for your animals.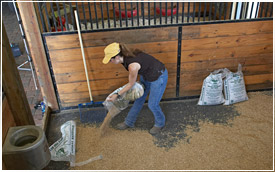 Pine, a natural deodorizer, controls ammonia the natural way. There are NO ADDITIVES or CHEMICALS in our production process. Our pellets will keep your stalls, cages or pens drier, brighter and healthier.
Excellent For:
Equine (stable and trailer)
Family Livestock (cattle, goats, lambs)
Poultry
Small Caged Animals
Dogs
Cats (pen and litter box)
Reptiles
Benefts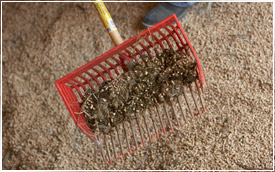 Sterile Material
More absorbent
Blodegradable
Double Screening
Multi vacuuming
Convenient packaging
Instructions
Clean stall completely leaving none of the old bedding.
12 x 12 stall: 5-6 bags on rubber mats, 6-7 bags without rubber mats.
Should stall become dusty simply sprinkle a small amount of water to reduce dust.
Do not remove wet spots until the granulated new product expands into fluffy sawdust in the entire stall. Remove the manure and mix the wet areas with the dry. Bring the dryer bedding from the outer edges of the stall mixing it well with the wetter bedding. The goal is to have the dryer bedding draw the excess moisture from the wetter bedding until the entire stall reaches the proper moisture content. This should take about one to two weeks.
When removing the wet spots, replace with about 1/3 as much new bedding. Mix the entire stall completely to allow the new bedding to absorb the excess moisture from the wetter bedding
BEDDING NOT INTENDED FOR PELLET STOVES AND APPLIANCES!!
Equine & Livestock
Clean out stall completely.
Evenly spread 4-5 bags of ABM if you like a thin bedding or 6-8 bags of ABM if you like a thick bedding.
Open up the wet areas to the stall floor and mix the dry product from the edges and then remove manure on a daily basis.
After 7 - 15 days depending on your horses habits and personal preferences wet areas will appear to "cake together". At this point remove saturated areas.
At this time you can add a small amount or up to 1 bag of ABM to refresh the stall for optimum usage.
Experiment to find out what works best for you and your animals!
Directions for Poultry, Pen or Caged Animals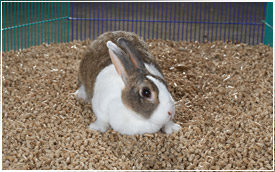 Start with a clean cage
Thoroughly clean the cage or litter box before placing new material.
Place up to a 1 inch depth of pellets in your pets' cage or litter box. For smaller pets– rats, gerbils, hamsters, etc. the depth should be about knee high. The natural absorbency of the pellets will increase the depth during usage
Remove solid waste regularly.
The natural clumping of the wood makes for easy clean-up. You can dispose of it in your garden or compost. Add more pellets as needed.
Clean thoroughly every 2-3 weeks.
It won't take long for you to find the perfect depth for your pet. If you are concerned about resistance, mix with usual litter to start.